Where Are Court Records?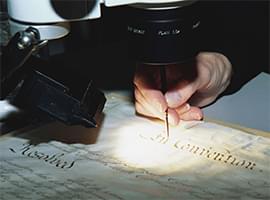 The Federal National Archives is a massive depository of records of important documents from U.S. History. These include court records, arrest records, and legislation such as the Emancipation Proclamation, which is on display as of April 15, 2019. Photo courtesy of Archives.gov.
Court Records are available to every American citizen because of the United State Freedom of Information Act, which was first signed into law in 1967. The purpose of having these records is to offer transparency of governmental actions, and to arm the citizens of the United States with knowledge they can use if found in a similar situation. By establishing precedent, and common practices, US court records in all their forms can offer useful insight into how the legal system works, without the need for years of study.
Unfortunately, since its introduction in the 60s, the court system has grown increasingly complex. With the introductions of sealings and expungements, increases in costs for reproductions and storage, and additional barriers introduced through legislation, finding the correct court record and obtaining can be quite difficult depending on the area.
There are often several places to find court records depending on which type of record is being sought. There are several websites and services, like State Records that can simplify the search for court records for an upfront cost instead of many different per-service costs. But for conventional methods, here are some of the most common areas where court records are held.
Online
With the introduction of digital storage for court records, and the advent of the internet allowing anyone to access digital materials from their home pc, it was only natural that court records become available online. Many states court records are online, and federal court records are online as well.
Several online resources exist to aid those interested in seeking out court records.
PACER
The Public Access to Court Electronic Records is the government sponsored hub for finding federal court records across the country. The service, which started in 1988, and then went online in 2001, allows for the retrieval of docket information from district courts, courts of appeals, and bankruptcy courts. Headed by the administrative office for the United States Courts and the Chief Justice of the United States, the system now holds more than 500 million documents collected from federal courts across the country.
Courts are tasked with maintaining their own system, then from that system, court documents are transferred to the PACER Service Center in Antonio, TX. Because each court maintains its own records, each jurisdiction has its own URL.
While PACER is sponsored by government sources, there is a cost associated with the use of the service.
Available information on federal courts and federal court records through PACER includes
A list of all parties and participants including judges, attorneys and trustees
A compilation of the cause of action, case number, nature of suit, and amount (in dollars) demanded
A chronology of the dates of major case events that were entered into record
A claims registry
A daily update on new case listings
Opinions of appellate court opinions
Judgements
The statuses of cases
The type of documents filed in specific cases
Copies of court documents in image format
PACER positions itself as a repository for obscure and historical cases, and as such users interested in doing research about policy and litigation will find more use for PACER than those interested in using records for personal purposes.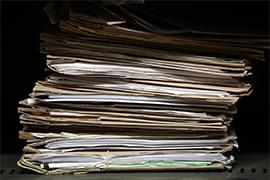 George Washington University's Seamus Hughes discussed why he believes that the costs of records through the federal government's PACER program is unfair, and misleading.Photo courtesy of Carl Court of Getty Images
National Archives
The National Archives website is another independently run government depository of court and administrative records available to the public. They are officially managed by the National Archives and Records Administration which was founded in 1934 under the Hoover administration. Their original purpose was to preserve and document government and historical records in a method that allows the public to access them. In addition to court records, the national archives holds documents concerning acts of congress, presidential directives, and federal regulations. They are also responsible for transmitting votes from the Electoral College to Congress during a presidential election.
There are two methods for accessing US court records through the national archives site.
NOTE: Only cases that have been closed are accessible through the national archives. Documents for ongoing cases are usually not available through this service.
The first specifies that interested parties must visit the "order reproduction" page. From there, select order reproductions (copies) and click on "court records." Select either bankruptcy court, civil court cases, criminal court cases, or court of appeals cases. Simply follow the onscreen prompts to locate the record in question.
The second method is to order court records through mail, fax, or email. This will require the filing out of the appropriate form. Mail, email, or fax this form to the contact specified on the forms to begin an inquiry.
Costs for each inquiry and service can be found at the national archives fee schedule page.
The National Archives is broad, and finding exact information without already knowing what to look for can be difficult. Parties that are interested in specific court records for cases that are closed are advised to use this service, and it is the most similar to the classic, in-person method of collecting records from a federal courthouse or record depository.
Municipal, City, and County Court sites
While not every courthouse in the country will have an online component for searching through court records, in general, this is a great place to start a search when looking for state court records, city court records, municipal court records, and county court records. Simply type in the name of the area followed by "court record search" to find the courthouse in question. If varients are encountered, try including in the full name of the area followed by the state. For example, when looking for "Orange County Court Records," be sure to add Florida or California to the search to specify the county.
City, County, and Municipal Court Records sites vary, but in general offer assistance for finding the court record in question. In Cook County, IL, interested parties can search by type of case, the topic covered in the case, and topics that the case relates to. Namely, they offer searches for
Civil, Law, Chancery, and Domestic Relations and Child Support Cases
Probate Court Dockets
Probate Wills
Traffic Tickets
County Division, or cases relating to name changes, real estate taxes, or elections
Unclaimed Child Support Checks
Naturalization Declarations from those seeking US citizenship from 1906 to 1929
Mortgage Foreclosures
The site even allows for search by name, case number, filing date, Cook County Attorney Code, and more.
Most court record search sites will offer similar features, while others may offer fewer search methods. In California's Santa Clara County, the same information is available, but the methods for which to search for them are different. Civil and family case information can be accessed online, and searched either using Santa Clara's Smart Search tool, or by searching through hearings using the location, hearing type, case number, name of those involved, and more. Criminal court records are also available, though are handled by a different service and must be searched using a case number, full name and birthday of the accused, any business that was involved, or the filing date.
In another example, Seattle, WA offers a search for Washington court records that relies almost entirely on the case number of the case in question. A name search also exists, but can work poorly without accurate knowledge of the defendant's name. The site also offers the docket of the case once located, and in many cases will present the information for free. Snohomish County, Washington's largest county, also offers electronic records, and includes a subscription service if frequent use of their court record search is required. They will also require a fee be paid before use of their service.
In Hawaii, the judiciary for the state is called Ho'ohiki. Those interested in court records filed in both the circuit and family court systems may access such information there. This includes information on criminal felony and misdemeanor cases, small claims cases, civil cases, and regular claims cases. These records are not available for purchase however, and those seeking copies should attempt their search online. The system is available online from 4:00 a.m. to midnight, Monday through Saturday, and from noon to midnight on Sunday.
Online court records are available, and in most cases relatively simple to obtain. Certifiable copies, print copies and other services will require fees before presentation however, so it is advisable to read through the fee schedule before attempting any searches. Still, with the ability to comfortably research court records in any area of the country, the online components answer the question on how to get court records from another state, and is usually the best way to begin a court record search regardless of your location.
When online searches prove difficult, StateRecords.org can help make the search simpler. There are also offline components to court record depositories for those who wish to keep their court record search off of the internet.
In Person
Before the internet, obtaining court records usually required writing a letter of request, or simply visiting the court that held the hearing or trial in question. There, interested parties could look through microfilm, or look through court documents after paying a fee. This method is still present in many areas, and is advisable for those that have the spare time, and enough knowledge of the case to know where it was held.
Washington's Thurston County offers records both online and offline. The offline component requires requests be sent to the County Clerk's Office by email. The service is also available by telephone at either the Main Courthouse (360) 786-5430 for civil and criminal cases or at the Tumwater Courthouse (360) 709-3260 for family and juvenile cases. Be sure to have the case number of the case in question, and the specific document needed, and be ready to mail a cashier's check with your name and address. Finally, court records are also available by mail. Requests can be sent to The Thurston County Clerk's Office.
Certain areas make exceptions on what material can be obtained depending on the identity of the requesting party. This is done to protect the identity of sensitive information in case, like the identity of victims, or state/company secrets. For example, Santa Clara County, mentioned above for their online component, also offers files offline. This is helpful in the matter of case documents as they are not available online. There are some of the restrictions on who can access certain case files.
Criminal court records are restricted to those that contain no victim information, probation reports, cases involving domestic violence or protective orders, criminal history, or financial and medical information. Generally, to search these cases, a case number or full name of the accused is required.
Civil court records require a case number, full names of both parties, and the titles of the requested documents and files.
Family court records are only available to those involved in the case.
Divorce court records are typically only available to those involved. Yet even they need to provide a case number or the name of one of the parties involved.
Probate court records and files are available, but will need to be to be addressed directly to the courts.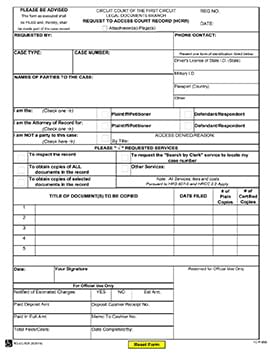 An example of the type of form often needed when attempting to collect court records. The above example is Hawaii's Family and Court Record Request form.
Certain areas of the country make extended use of forms, and repeatedly recommend use of online resources. In Hawaii, access of court records of all kinds typically require access of the internet and the website for Hawaii's eCourt filing system. Those that prefer to research records offline are guided to public libraries for free internet access. If able to go to a courthouse, be ready to submit a written request to access court records, which is to be presented at the time of request. A form may also be required, and is available at the legal documents records room of the courthouse where the case in question was heard. Information required for access to records includes the type of case (civil, criminal, traffic, etc), the case number, the full names of those involved in the dispute, the number of copies requested, whether a certified copy is required, and any additional services if needed. There are associated fees.
Next, a form must be filled out if purchase of court records is required. Either fill in the Circuit Court/Family Court form, or the District Court form. Then, proceed to the courthouse to make the request at the office of the Clerk of the Court. If a case number is not specified, a $5 fee is required to perform a name search. There are also options for mailing, emailing, or faxing a court records request.
While court records are still available through courthouses across the country, most jurisdictions prefer interested parties conduct their searches online. This reduces cost of reproduction, and time involvement of government employees, and is considered easier overall. While those seeking these records offline still have avenues for this, barriers like increased costs, research involving case numbers and hearing and trial locations may require the use of the internet anyway. When encountering difficulty, website like State Records can ease the requirements of searching for court and criminal records, and produce results online.